124th Summer Symposium of KCS-Physical Chemistry Division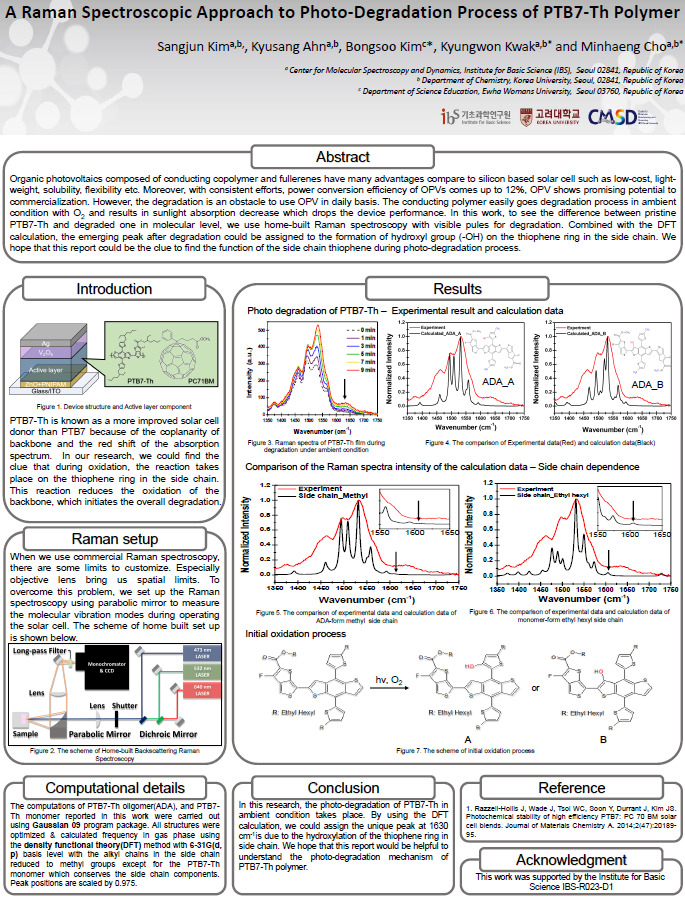 Organic photovoltaics composed of conducting copolymer and fullerenes have many advantages compare to silicon based solar cell such as low-cost, light-weight, solubility, flexibility etc. Moreover, with consistent efforts, power conversion efficiency of OPVs comes up to 12%, OPV shows promising potential to commercialization. However, the degradation is an obstacle to use OPV in daily basis. The conducting polymer easily goes degradation process in ambient condition with O2 and results in sunlight absorption decrease which drops the device performance. In this work, to see the difference between pristine PTB7-Th and degraded one in molecular level, we use home-built Raman spectroscopy with visible pules for degradation. Combined with the DFT calculation, the emerging peak after degradation could be assigned to the newly oxidized product of the attached thiophene ring in the side chain. I hope that this report could be the clue to find the function of the side chain thiophene during degradation.
Reference
[1] MATEKER, William R.; MCGEHEE, Michael D. Progress in Understanding Degradation Mechanisms and Improving Stability in Organic Photovoltaics. Advanced Materials, 2016.
[2] RAZZELL-HOLLIS, Joseph, et al. Photochemical stability of high efficiency PTB7: PC 70 BM solar cell blends. Journal of Materials Chemistry A, 2014, 2.47: 20189-20195.